Roger Kull
"Fine Art Sculped Leather Pictures"
Watch Roger Kull latest video on his sculpted leather technique. Click on the link below.
Roger's video link: http://www.youtube.com/watch?v=fWi5IyYL7fI
"My art is about the Four Corners history." -Roger Kull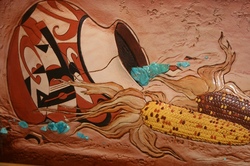 Roger Kull lives in Cave Creek, Arizona and has been a full-time artist for 30 years. He is a successful, accomplished, internationally recognized, and a well respected author of Lightning Struck My Family Tree and Lightning Strikes Twice.
His statement, "My art is about Four Corners history", is indeed fact. He has been to every major ruin site in the Southwest. The history of the Four Corners region reflects in each pictorial leather sculpture he creates. Each dynamic pot or portrait reflects his love for the Southwest.
Roger Kull creates the most extraordinary fine art leather pictures. Utilizing the natural hues of leather, specializied dyes, along with the colorful blues of turquoise, there is a continuous flow between tradition and innovation, creating constant interest in his fine art leather work. To create this highly evolved "Fine Art" form, Roger's skill and imagination developed leather, an art form previously ignored, now making leather a "Fine Art" and taking it to higher level than thought possible. His work is recognized by museums and collectors around the world.
Roger Kull's original, 3-dimensional, sculpted leather pictures are predominately of Native American pottery, First's People, dwellings, wildlife and the indigenous lifestyle of the Native American are reflected in his exquisite art work.
His entire workshop consists of two tools, a swivel knife and a clay modeler's spoon. All pictures are carved completely freehand, dyed and finished with Roger's Kull's special touch, the tuquoise. Each unique picture is one-of-a-kind.
Statement:
"I want to overcome the ordinary.

Change is healthy in this arena and turning corners represents growth.

I am focused.

I know how to get things done.

I do not need the proper light, mood or music to be at the right tempo.

Simply, I know how to work.

While art is my primary focus, how things came to be and why totally fascinate me.

Both ancient and modern events are exposed through careful analysis and I never tire of the theory and facts that educate us.

Interests in horses are a developed taste and I have owned and ridden sixteen of the most incredible creatures that creation has to offer.

I am not a cowboy and I do not really have the cowboy mentality.

I am a technical rider who has always recognized the individual nature of how a horse thinks and how his body works.

Some the closest personal relationships that I have shared have been with my equine friends.

Travel is an educator in itself.

Years ago as a child I realized that tourists want to be entertained while a traveler seeks education."

Who Are the Anasazi?
The People...Anasazi
The people are gone but the magnificent cliff homes and remains of their beautiful pottery speak of one of the greatest mysteries of the Southwest.
The life that was the Anasazi began in the Four Corners region of Utah, Colorado, New Mexico and Arizona, a region of dramatic setting with deep canyons and high plateaus.
The Anasazi concengraged in three distinct poplulation centers known as Chaco Canyon, Mesa Verde and Kayenta. However, in time, the influence of their culture reached out and affected the lives of almost every other prehistoric Native American group in the Southwest.
Until A.D. 500, the Anasazi were basket makers. They were migratory, mostly hunters and cultivators of meager crops. By A.D. 700 the tradition was extraordinary. Buildings of stone and masonry arose and the advent of pottery altered their life-style and provide a stimulus for growth and change.
From A.D. 1100 to A.D. 1200, the Anasazi enjoyed a peaceful and prosperous existence and the most advanced pueblos and dwellings were built. Their pottery became the finest form of artful utility. The Anasazi had become an adaptable and dynamic culture.
Before A.D. 1300, the Anasazi began to leave their homes, not in isolated moves, but a mass abandoment of all established setlements. What caused this is not known, perhaps drought, perhaps strife. It is not known where they went. Perhaps they went south to join other groups.
The great dwellings they left behind speak silently of their acheivements. They are more of a mystery than a solution, leading to questions of the life of the Anasazi...The People.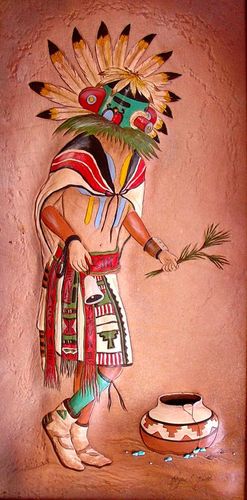 Roger Kull video. Click the link to view the New Video.