ROGER KULL
"Fine Art Leather"
My Favorite Links Page
THESE ARE SOME OF MY FAVORITE AND USEFUL LINKS
The following is a list useful links that I have compiled. If you wish to be added to this list, please send me an e-mail.
My Favorite Link of all is,of course,my book, "Lightning Struck My Family Tree."
Lightning Struck My Family Tree - well written and hilarious book by Roger Kull is highly recommended. It's now available on his website or by calling 480-620-3849. To order your personalized copy today, send $ 15.00 plus shipping and handling.

This hilarious and well written book is based on Roger Kull's recollections of his family, childhood friends and the bonds of survial of simpler times. This is book is highly recommended for all ages.

"All families are formed by nature and held together by the bonds of association. It is this association that forms opinions. After due consideration, I have come to realize that I was raised by unskilled, uneducated minimum wage earners who lived in constant fear that the slightest miscalculation might cause their already shaky world to collapse. They were everyone who had to struggle to survive in life and survive they did. And above all...they loved me even when I made it hard.

The good thing about people like these is that they teach you a strong work ethic, as that is the only thing that will save you in the long haul.

The bad thing is that my family always seemed to hang around with people that were worse off than they were. So, you can imagine the quality of association that formed me.

These are my recollections of those who caused me, at the age of eight, to declare to myself, "Lord, if there's a better way, please let me find it!!" ........I'm not sure I was ever answered."
Judith Durr - Choctaw, Native American artist, Judith Durr's website offers paintings, prints, commissions & fine art products. Her unique oil paintings are recognized internationally. Judith Durr has a dynamic and unique style with the painted illusion of textures. Judith's signature, the detailed painted rugs in the background of each of her original oil paintings, sets her work apart from other still life artists work.
Judith consistantly paints the detailed rug background from the rugs she has collected over the years. Some of the rugs and jewelry Judith uses, are old family pieces acuired while her family lived on the Navajo reservation in Montezuma Creek, Utah. It was these formative years that have given Judith Durr's the inspiration seen in her artwork today. She collects the Native artifacts, from South America to Canada, used in her artwork which allows her original oil paintings to be painted strictly from life and not from photographs.
Judith's artwork is represented by Joan Cawley Gallery, Scottsdale, AZ; Galerie Esteban, Santa Fe, NM; The Purple Iris, Ouray, CO; Turnwest, Carefree, AZ
Southwestern Premier Artists website.
Excellence in fine art promotions.
Booth Museum, Cartersville, GA Roger Kull's work is in the permanent collection.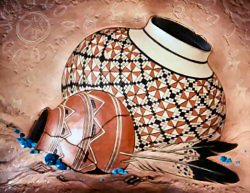 You know us as the Internet's original search engine.
One of the most visited hubs on the Internet, reaching one out of every two Web users.
With over half a million sites, divided into more than 25,000 categories, Yahoo! is both browseable and searchable.